Victorian Terrarium
This unique terrarium is based on the famous Crystal Palace, designed by British architect Joseph Paxton, and erected in Hyde Park for the Great Exhibition in 1851. It contained exhibits from all branches of art and science and was visited by more than 6,000,000 persons. The building was destroyed by fire in 1936.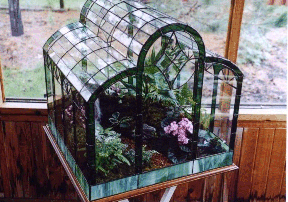 This stained glass replica was constructed by LUCID Glassworks in Ottawa, Canada using the same traditional copper foil technique that Tiffany Studios revolutionized around the turn of the century.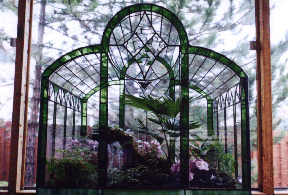 It measures 22 3/4 inches in height and is 22 3/4 inches square at the base. It contains approximately 20 square feet of glass, 5 lbs of solder, over 80 yards of copper foil and took 45 hours of hand crafting to produce.
Completed in time to enter in the African Violet Society of Canada Convention and Show held recently in Ottawa it was judged to be the Best in it's Class.
Planted with:
African Violets: "Opera's Grace", "Spunky Trail"
Microminiature Sinningia: "Ruffled Wood Nymph"
Washingtonia Palm, Hedera Helix,Polka Dot Plant
"Rabbit's Paw Fern" and peperomia rotundifolia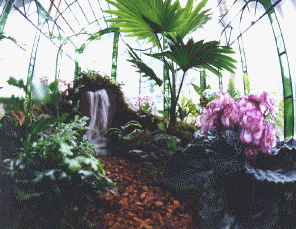 Interior of the terrarium viewed through the front door. Path beside a full size African Violet leads to a simulated waterfall. The Mexican Fan Palm when fully grown will reach about 90 feet in height. At the Show, several people said that looking in through the front door they felt as though they they would like go inside and rest for a while. So we now have a bench that you can imagine you are sitting on.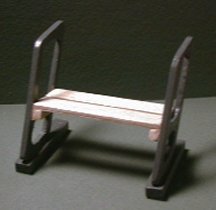 Bench
New Addition:

I now have a new 54 gallon corner aquarium!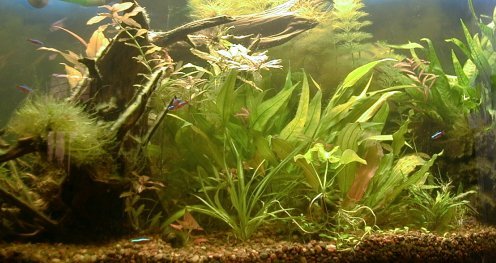 Close-up view of the aquarium showing some Otty Lake driftwood.
As you can see I am learning about the world of Aquatic Gardening.
Here we see one of the seven Cardinal Tetras.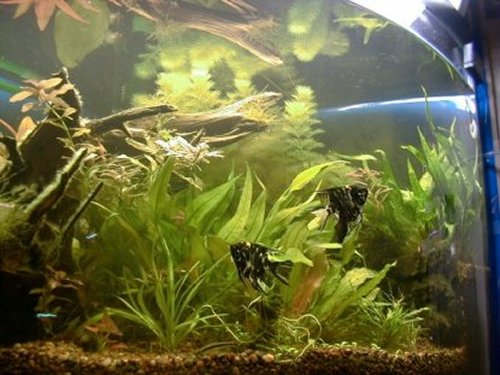 A pair of Angels soon to be joined by Discus neighbors


Send e-mail to Bill Westbrook
Ottawa, Canada